Lithium-Ion Battery Test Chambers & Enclosures
Our battery test chambers and enclosures are engineered with the specific requirements to perform battery testing safely, designed to contain thermal runaway events that cause overpressurization and explosions.
They are manufactured in the USA from certified explosion-rated polycarbonate panels, easily replaceable if marred by heat or explosion. 
Available as mobile enclosures and walk-in safety chambers

Thermally isolated flame and heat shields

Vent holes to release combustion gases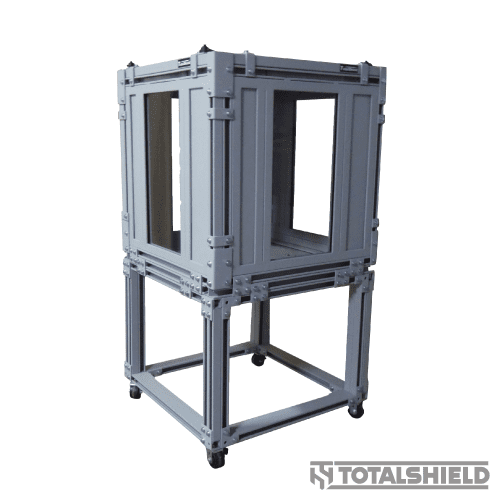 EXPLOSION-RESISTANT ENCLOSURES
Battery Testing Enclosures
Our lithium-ion battery enclosures are designed to contain explosive and ballistic failure while allowing the venting of combustion glasses. Their clear polycarbonate panels allow observing and filming the testing procedures. 
As primary containment enclosures, we integrate heat and fire shield panels and a thermally isolated steel table to minimize the heat transmitted to the rest of the enclosure and environment. 
Walk-in Battery Test Chambers
Our lithium-ion battery test chambers act as a secondary containment if you're unsure of the battery sizes or types that might be tested. 
With an improved design, TotalShield chambers include interface and side panels for access, a sliding door, and panels to allow air exhaust. 
Contact Us
Let us know your specific requirements to design and build the shielding solution you need.