Mobile Blast Shield Barriers
BALLISTIC, BURST, AND PRESSURE PROTECTION
Clear Mobile Shield Barriers
TotalShield's mobile shield barriers are designed to protect your personnel and equipment from the effects of overpressurization, explosions, flying projectiles, and more.
Engineered with certified blast and impact-rated panels and our modular framing system, our connectable barriers combine high impact protection with portability and configuration versatility.
Due to their energy dissipation, impact, and heat resistant qualities, our blast shields will increase your safety protocols.
Features:
Manufactured with transparent, polycarbonate panels
Can be secured to each other for a complete shielding enclosure
Available as individual shield barriers or complete enclosures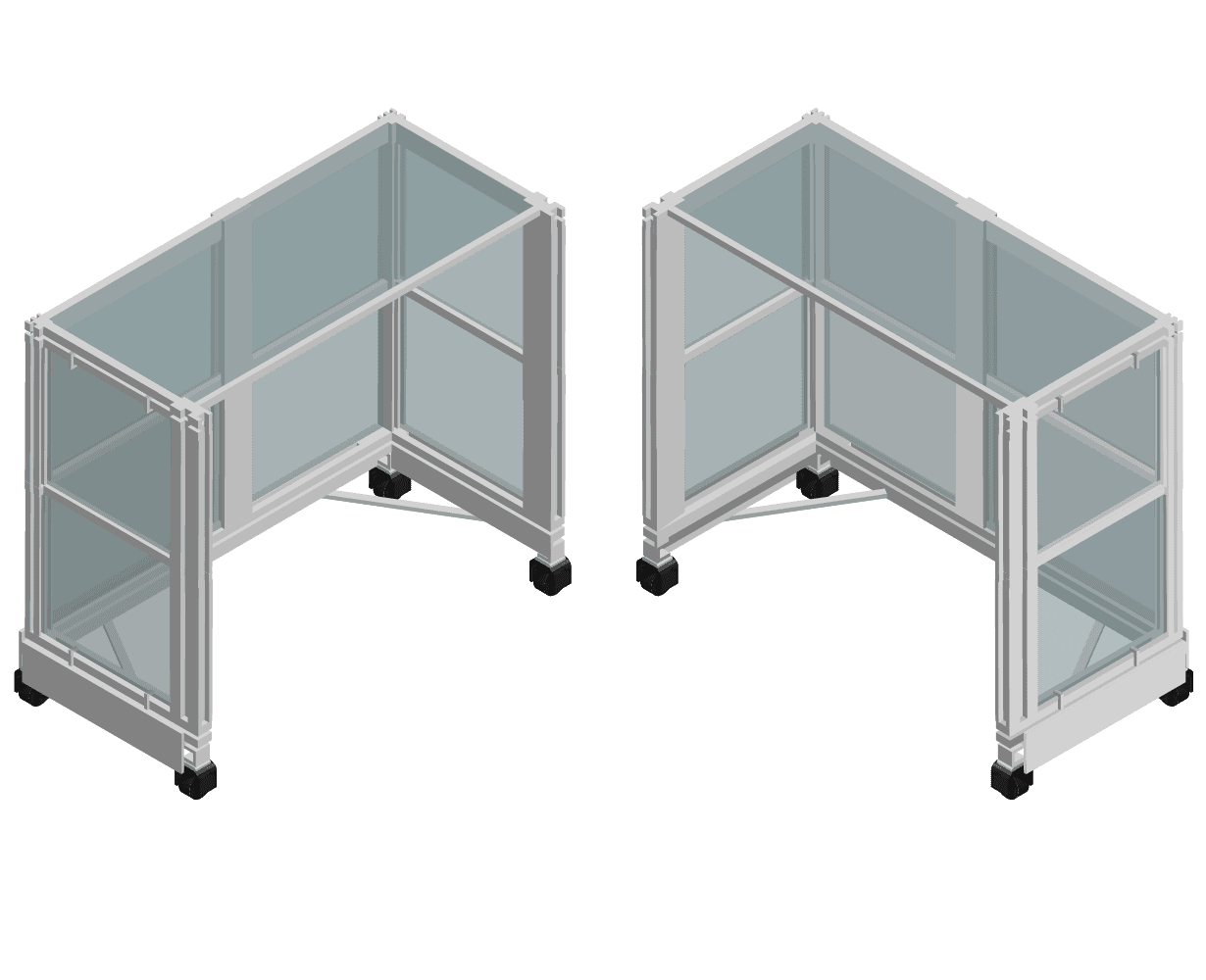 Custom Shielding Solutions
TotalShield customizes all our shielding products to meet your business applications. This helps us ensure the proper force protection level so your safety is never compromised.
Blast and Impact-Resistant Polycarbonate Panels
Polycarbonate in our proprietary framing system is the most effective material to dissipate energy created by overpressurization, explosions, or flying projectiles or shrapnel. Its durability and impact-resistant features protect against a wide range of applications.
Specific Force Protection Levels
After assessing your industry application, we determine the polycarbonate panels' thickness to match your procedure shielding requirements. This ensures that our mobile shield barriers will have the force protection level you need.
Modular Portable Barriers
We manufacture our blast shield barriers with a modular framing system. Attach them to each other for a complete enclosure, or
combine them with our Kevlar blankets for a fabric-access door.
Their portable nature is perfect for temporary test operations and to easy relocation.
Tested and Certified Products
All our shielding products are backed with thorough tests to ensure trustworthy protection. We also include a Letter Report that describes our design methodology and impact-resistant level certification.
Polycarbonate Shield Barriers Specifications



Materials

Polycarbonate sheets
Aluminum and steel framing
Steel interface panels for control line access

Sheets Thickness

Standard sizes: 1/2", 3/4", 1.25"

We customize our sheets to your specific testing application.

Ballistic Ratings

UL 752Level 1 - Level 3 | NIJ Level II | Level IIIA Ballistic, blast | Level I to III forced entry protection

Configurations

Single walls
Room dividers
Corner barrier
U, L-shaped barriers
Any configuration/geometry you need

Our shield barriers can be secured to each other. If you need a complete free-standing room, check our Shielding rooms.

Applications

Different pressure testing processes (hydrostatic, pneumatic, etc.)
Burst testing
Ballistics
Rotating machinery
Explosive operations
Hazardous machine containment
Hazardous operation shielding
Barrier separation of a hazardous area
High-velocity projectile containment
Contact Us
Let us know your business application to determine the shielding solution you need.