POLYCARBONATE CONTAINMENT ROOMS – HIGH-IMPACT FORCE PROTECTION
Blast and Impact Resistant Shielding Rooms
TotalShield's clear shielding rooms provide impact protection from a range of industry applications. They are manufactured in the USA from certified impact-rated polycarbonate panels with aluminum and steel framing designed and tested to dissipate energy from a blast or pressure release and contain shrapnel.
Features:
Engineered for the level of protection needed for your business operations
Transparent with non-transparent interface panels
Complete free-standing room or as a single wall
Available in custom sizes and configurations
Ensure your personnel and equipment safety and get the protection you need.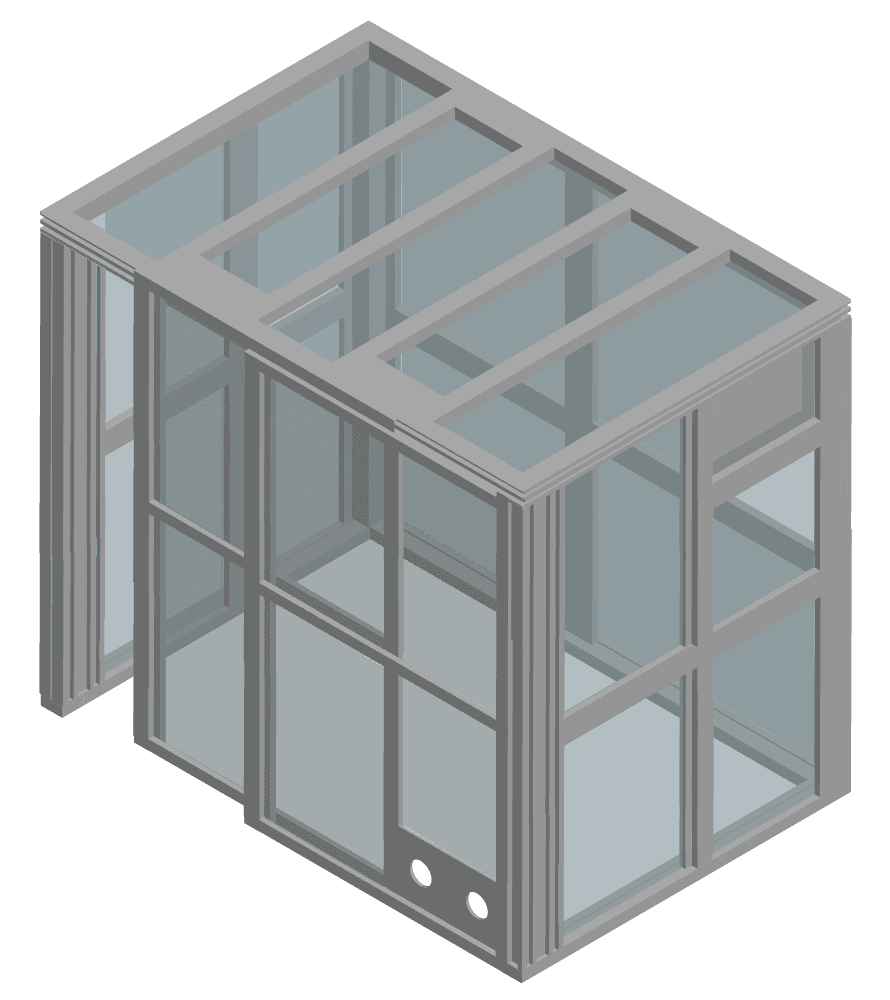 Common Industrial Applications
Hydrostatic testing

Ballistics

Machinery containment

 area

Hydrogen Electrolyzers Safety
Pneumatic testing

Explosive operations

Rotating equipment

Hydrogen Fuel Cells Enclosures
Burst testing

Projectile Containment

Hazardous operation shielding

Pressure Test Enclosures
Discover our Blast Shield Rooms
Take a look into our past projects
Modular Framing Technology
Our shielding rooms' versatility allows various configurations, adapting to your specific application. Install them as a complete free-standing room or single walls to separate work areas.
Portable Containment Rooms
Because of their modular construction, our impact-resistant rooms can be easily assembled, moved, and relocated. This feature prevents extra costs from adding permanent structures or modifying existing facilities. This also reduces or eliminates permitting delays, and allows for easy replacement of polycarbonate panels.
Transparent Walls
Unlike modular buildings made from steel panels, our shield rooms have transparent walls that offer a 360-degree unobstructed view. This enhances employee safety as tests and operations can be monitored safely outside the room, and failures can be detected quickly.
Engineer Support
Our shield rooms are delivered partially assembled in modular components. We provide a comprehensive assembly guide with step-by-step instructions and video support calls with our engineers.
Polycarbonate Blast Shielding Rooms Specifications
Materials

Polycarbonate sheets
Aluminum and steel framings

Sheets Thickness

Your specific testing application determines the sheets' thickness.

Ask for our 1/2", 3/4", or 1.25" thickness standard sheets.


Ballistic Ratings
Configurations

Free-standing room with sliding access doors
Single walls
Room dividers
Corner barriers

We customize them to any configuration or geometry you need.

Installation

We deliver our shielding rooms partially assembled; installation is easy. Ask for our onsite installation supervision service.

Applications

Different pressure testing processes (hydrostatic, pneumatic, etc.)
Burst testing
Ballistics
Rotating machinery
Explosive operations
Hazardous machine containment
Hazardous operation shielding
Barrier separation of a hazardous area
High-velocity projectile containment
Contact Us
Different testing procedures require different protection solutions. We customize all our containment rooms to your specific needs.
Talk to an expert and let us know what you need.