TotalShield invented the portable shield barrier to provide engineered ballistic and explosive protection in a convenient portable format. This was important for our customers who required high levels of safety protection but could not install a blast shielding room. Reasons for using a mobile barrier include:
Constrained factory floor space which would make a shielded room impractical
Intermittent need for shielding, wheel in place when needed, wheel away when not needed
Dynamic testing locations – wheel where needed on the factory floor
Portable Shield Barriers Anatomy
We designed our standard mobile barrier to be 7 ft high by 7 ft wide by 3 ft deep. While we can make mobile barriers in almost any size, we standardized on these dimensions for a few reasons:
At 7 ft high, it is tall enough to protect most standing adults without having to crouch under the ceiling
At 7 ft wide, the barrier is wide enough for three adults to stand side-by-side while viewing the test or process comfortably
At 3 ft deep, the sides and ceiling are deep enough to protect possible ballistic ricochets – for example, items bouncing from a ceiling or wall and impacting the side or top of the enclosure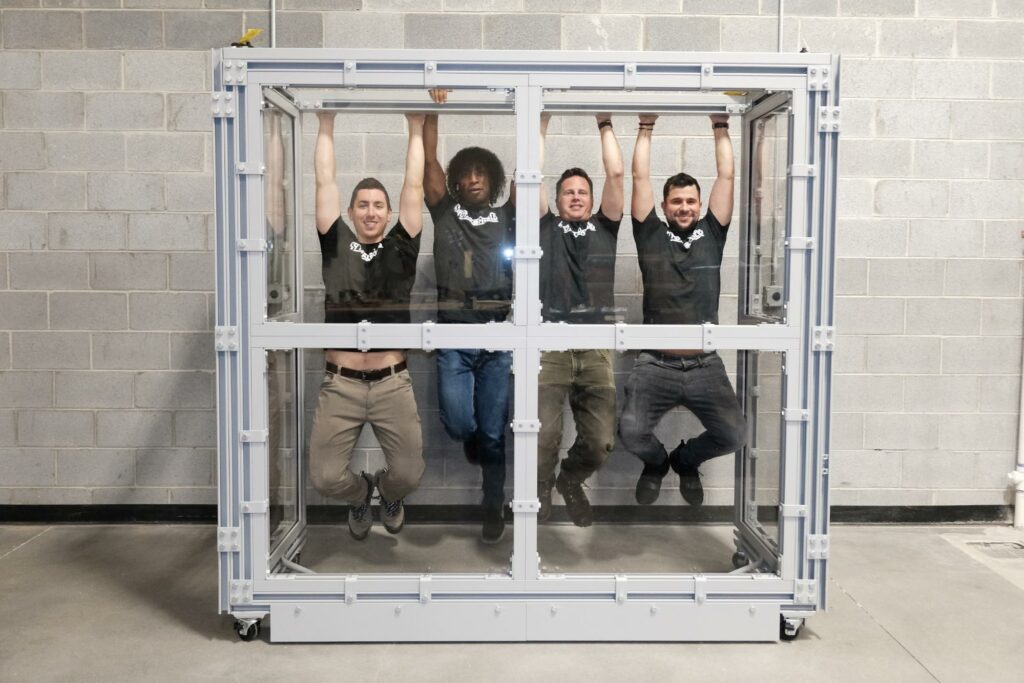 Another reason for the dimensions of our standard polycarbonate blast shields is that the unit is freestanding and provides excellent resistance to tipping. This is essential for the safety of personnel moving the unit on wheels, as the units are impossible to accidentally push over while moving.
The weight of the mobile barrier starts at 540 pounds and increases with thicker polycarbonate. The low center of gravity prevents tipping from a ballistic or explosive impact. While we always recommend that the integrated floor anchors be used with our mobile barriers, they provide exceptional resistance without being anchored.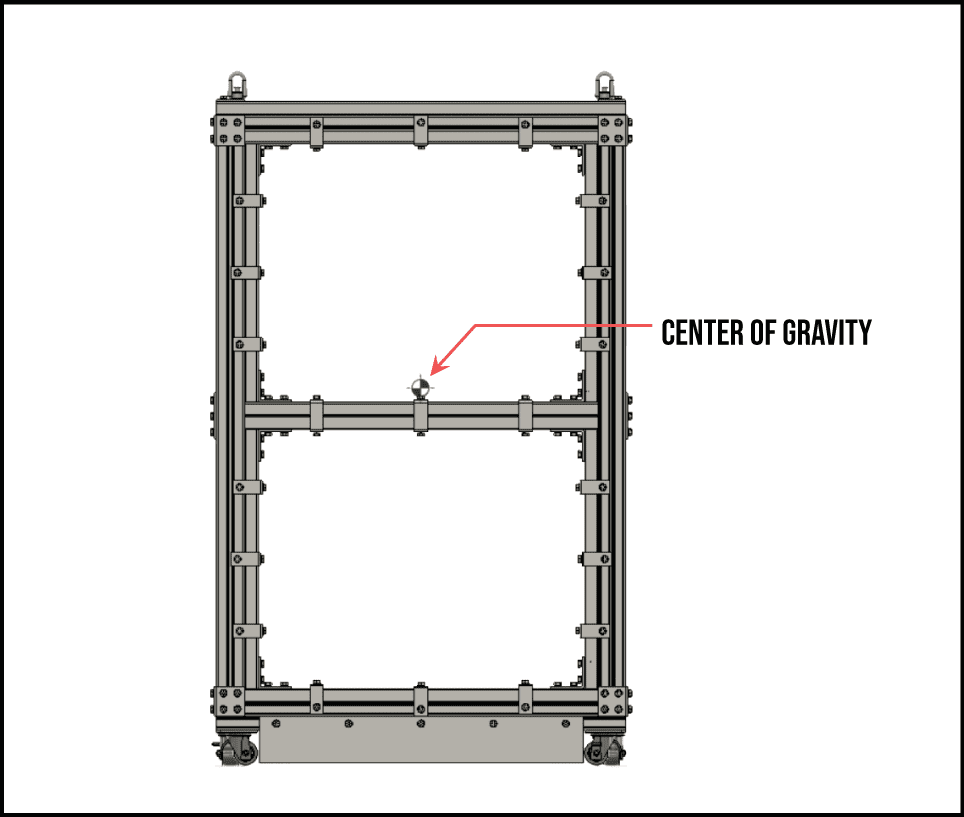 Each mobile barrier is offered in hard-coated ballistic-rated polycarbonate in thicknesses of 0.5 inch, 0.75", and 1.25". They are manufactured using the same proprietary steel and aluminum framing system as our shield rooms and come standard with easy-rolling castors, floor anchors, and overhead hoist loops.
Connectable Mobile Barrier Configurations
The idea of connecting our standard mobile barriers came from one of our customers, who needed high levels of personnel protection and the ability to quickly configure this safety protection for different testing procedures in their facility. Our customer asked if we could connect the blast-resistant barriers. Of course, our engineers developed an easy system to connect TotalShield mobile barriers in various configurations.
This connection system utilizes a series of three plates at each mobile barrier junction. These plates can be installed with thumb screws for easy installation and removal or connected with bolts.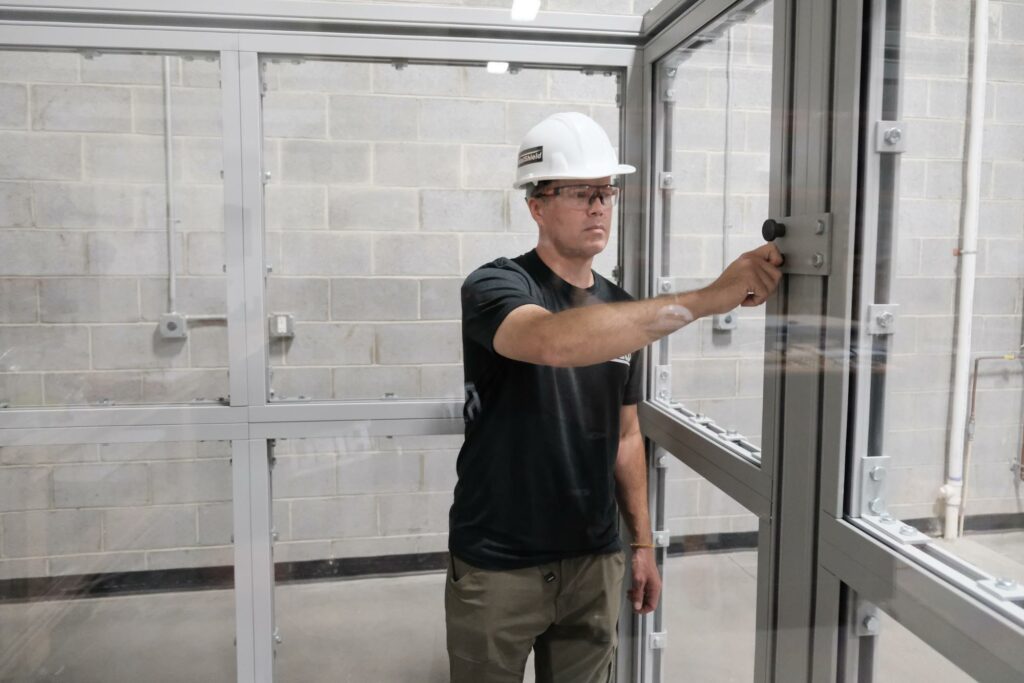 So, for example, to configure two standard mobile barriers into a 14-ft wide wall, three flat junction plates are used to connect the barriers in a side-by-side configuration.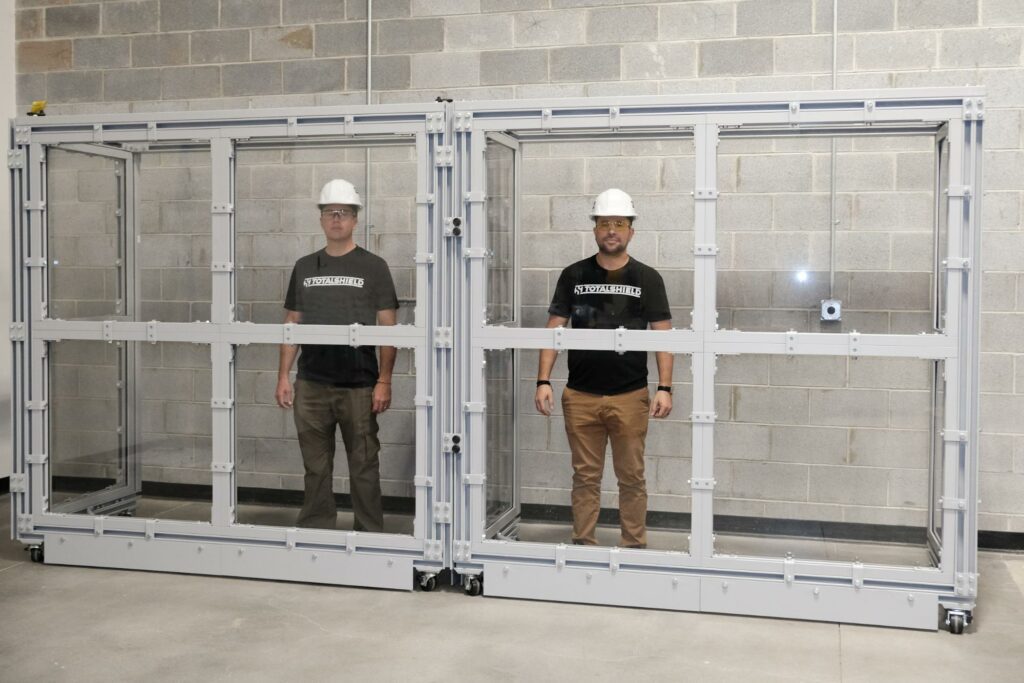 To create an "L" shaped angled barrier using the same two mobile barriers, three angled connector brackets would be used.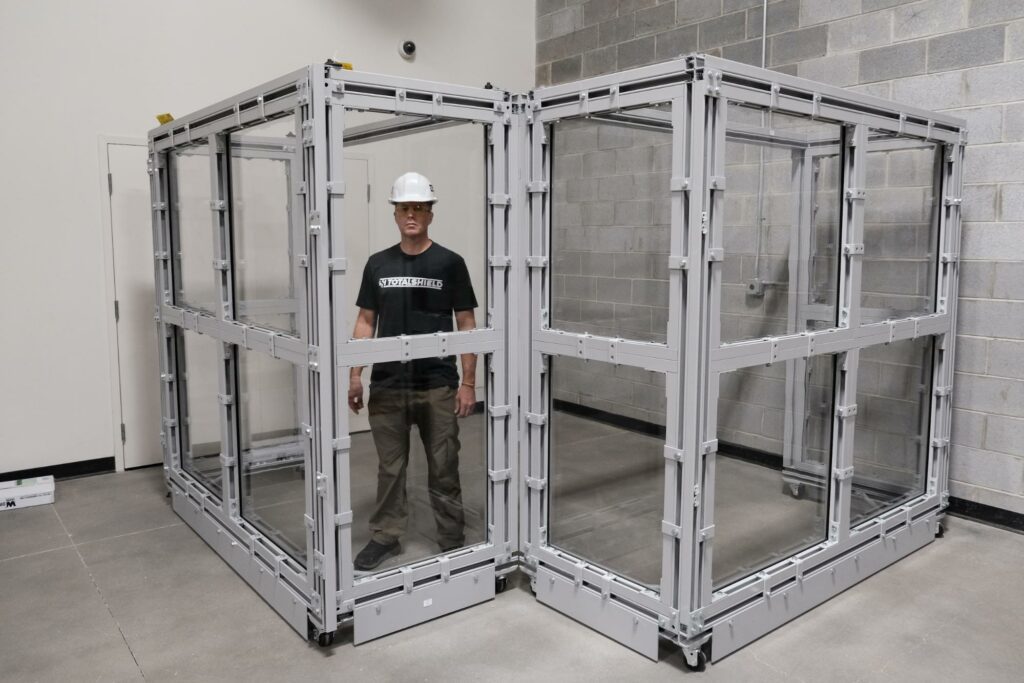 Two mobile barriers can be connected with flat plates on each side to create a small room, which could be useful to surround a temporary test fixture.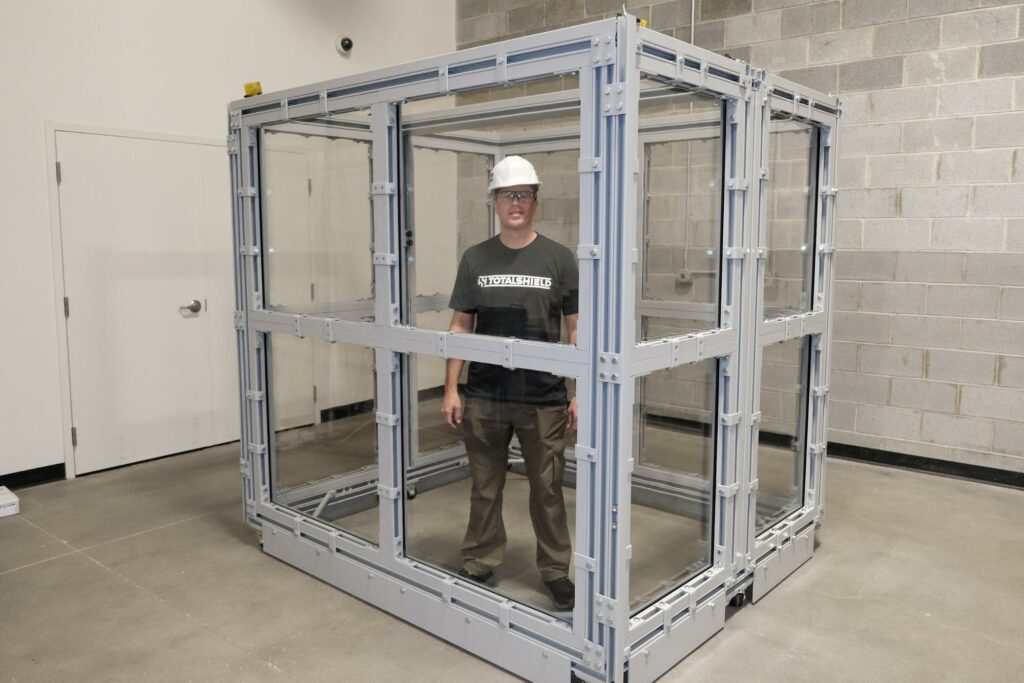 Further Connectable Shield Barriers Configurations 
The straight and angled connector plates allow for a wide variety of configurations, from straight to angled walls, small to large rooms, and irregular shapes that can be made to conform around existing obstructions on your production or testing floor. The following are just a few of the possible configurations: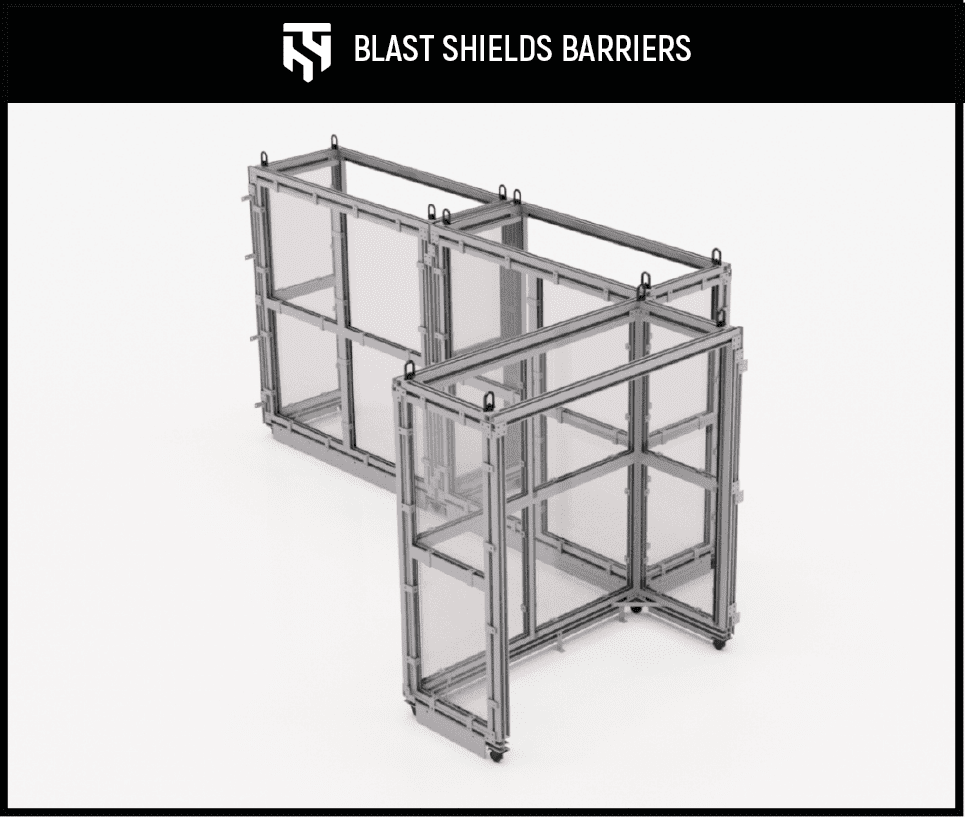 Conclusion
Many of our customers have dynamic manufacturing, assembly, and testing stations that demand a protective ballistic shield that can be moved and configured easily. Customers such as SpaceX and Blue Origin are constantly optimizing and reconfiguring their facilities, and they rely on our connectable mobile barriers to give them the flexibility they need with uncompromising safety.
Contact us to discuss if our connectable mobile barrier might be suitable for your organization.